HIS 218
Unit 2: The Local Digital History Scene and the Evolution of the Web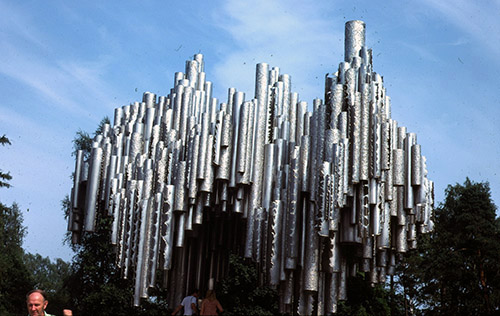 The Sibelius Monument in Helsinki, Finland. The structure is composed of organ pipes. Photo credit C. T. Evans.

Short introduction
We have been practicing digital history for almost two decades now, and in this unit I want to give you some background to the local university centers, because they have all been pioneers in developing new digital techniques and apps, for example, George Mason's Omeka and Zotero or the Scholar's Lab Neatline. It is good for you to see the kind of innovative work being done in the field by our local universities.
In addition, the way that history has been displayed on the web has changed dramatically over time through web 1.0, 2.0, 3.0, etc. In this unit we look at some of the early historical sites (most of which are still relevant and useful) and how they have evolved over time.
There is quite a bit of introductory material to cover in this unit.
What you must do in this unit
Submit
Create a blog (20 points) for your use in the course. Please email the URL of your blog to me for feedback before your submit the URL In Canvas.
Post on your blog (5 points) (a) a quick review of what you found interesting about the work of our local digital history centers and (b) what you found most interesting in the Rosenzweig reading. Please let me know in Canvas when you have posted so that I can grade.
What you can do in this unit
I have recently discovered other online "texts" that deal with the digital revolution in history. See, for example, Writing History in the Digital Age: a born-digital, open-review volume edited by Jack Dougherty and Kristen Nawrotzki and Peter Lunenfeld, Anne Burdick, Johanna Drucker, Todd Presner, Jeffrey Schnapp, Digital Humanities (2012). T. Mills Kelly, also at GMU, has published Teaching History in the Digital Age. See also, A Companion to Digital Humanities, edited by Susan Schreibman, Ray Siemens, and John Unsworth (2004!). If you wish, please take a quick look and let me know what you think.
Extra credit options
Find materials (on the web) related to the differences in reading something online and reading something as a hard copy. Anything that you find, I can add to this unit's note.
Unit learning objectives
Upon successful completion of this unit, you will be able to (1) demonstrate knowledge and evolution of the key local institutions focused on digital history and (2) to explain the development of web-based materials since the inception of the web and summarize how historical content has changed in design and complexity over that same period of time.