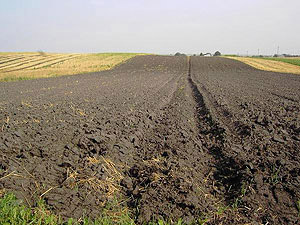 The Black Earth, or chernozem (чернозём from the Russian words for "black soil," chernaia zemlia or чёрная земля), region is a belt of extremely rich and fertile soil stretching from the Moldova and Western Ukraine eastward, narrowing as it goes further east into Siberia, before coming to an end near Irkutsk. This is some of the richest soil in the world.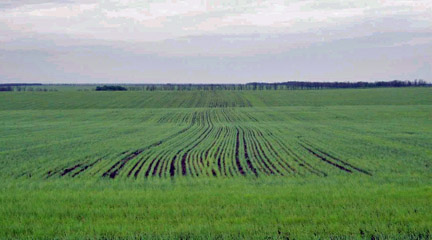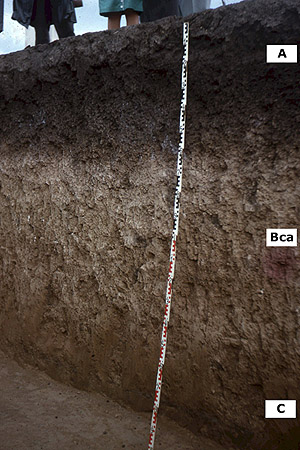 The chernozem contains a very high percentage of humus, anywhere up to about fifteen percent, and also important organic minerals such as phosphorus and ammonia. The depth of the chernozem has been measured at anywhere from forty to two hundred and fifty inches, but is usually about a foot deep. Because it very fertile and does not require any fertilizer, it is considered some of the best soil in the world for growing grains. The "black earth" region of Ukraine extends throughout about two-thirds of the country.

For centuries the Black Earth region was mainly steppe, open grasslands with no real agricultural being carried out. The problem was that the upper level of the soil was so thoroughly entangled with roots, that it proved impossible to cultivate with wooden plows. Only when steel-tipped plows were introduced in the early nineteenth century did agriculture become important. With more improved machinery and efficient cultivation techniques, the Black Earth region really emerged as the bread-basket of Ukraine and Russia at about the turn of the twentieth century. The region proved to be enormously important to the industrialization of Russia that was carried out by Sergei Witte because Russia could now export wheat to make money to invest in its industrial development. During the collectivization and industrialization of the Soviet Union as part of Stalin's first five-year-plan, the Black Earth region again bankrolled industrial development in the country by exporting wheat from the Soviet Union, but this time widespread famine resulted throughout the region as not enough wheat was saved for domestic consumption.